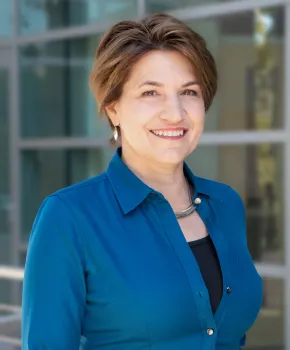 Associate Professor (Teaching), Technology Management (she/ her) and Faculty Diversity Officer
Renee Rottner is Associate Professor (Teaching) of Technology Management at UC Santa Barbara. She is also the Faculty Director of UCSB's Master of Technology Management program. Prior to joining UC Santa Barbara, Dr. Rottner was an Assistant Professor at New York University's Stern School of Business in the department of Management and Organizations, where she taught leadership and entrepreneurship courses.
Dr. Rottner's research and teaching focuses on innovation, particularly how innovators can improve the development of new ideas and new firms.  She has examined the dynamics of innovation in a range of settings, including Caltech spinouts, NASA projects, semiconductor startups, and Federal nanotechnology initiatives. She is currently studying these dynamics in non-US contexts, including entrepreneurship in Japan and China, as well as micro-financed businesses in India. Professor Rottner has received research funding from NASA and best paper awards from the Strategic Management Society, the Academy of Management, the Institute for Operations Research and the Management Sciences (INFORMS), and the Society for the Advancement of Management Studies. She has written a book on the history of NASA's Spitzer Space Telescope and has published articles in the Academy of Management Journal, Academy of Management Learning & Education, Entrepreneurship Theory & Practice, and Organizational Dynamics. She previously served on the editorial board of the Strategic Management Journal.
Before entering academia, Dr. Rottner worked as an entrepreneur, helping engineers and scientists to commercialize their ideas in a variety of contexts including the military, R&D institutes, and universities. She received her B.A. from Eastern Michigan University, her M.S. in Management Science and Engineering from Stanford University, and her Ph.D. in Management from UC Irvine.