Professor Paul Leonardi Appointed Chair of Technology Management Department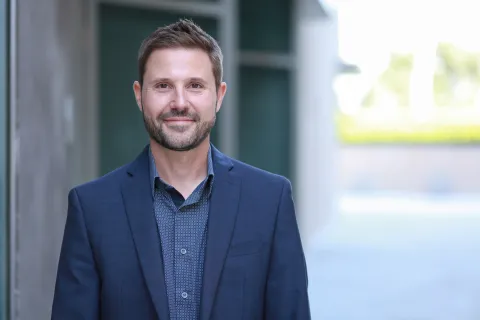 Leonardi to Build on Success of Professor Kyle Lewis, Technology Management Chair from June 2017 through June 2022. 
Technology Management Professor Paul Leonardi has been appointed Department Chair by UC Santa Barbara College of Engineering Interim Dean Tresa Pollock. Leonardi begins his appointment on July 1, 2022, and succeeds Professor Kyle Lewis, who has served in this capacity for the past five years. Professor Lewis will continue to conduct research and teach at the graduate level within the Technology Management Department. 
Paul Leonardi, the Duca Family Professor of Technology Management, joined Technology Management in 2014. His research, teaching, and consulting focus on helping companies to create and share knowledge more effectively. He has authored more than 60 articles that have appeared in top journals across the fields of Management, Communication, and Information Systems. He is the author of four books on technological innovation and organizational change, including his latest book, The Digital Mindset: What it Really Takes to Thrive in the Age of Data, Algorithms, and AI, co-authored with Tsedal Neeley. Leonardi is currently the director of the Ph.D. in Technology Management and served as the founding director of the Master of Technology Management (MTM) program. 
Said Kyle Lewis, "Paul has been an active leader in Technology Management, having designed and led the Master of Technology Management program from its beginnings in 2015 through 2019 and served as Ph.D. director for several years to the present. In both programs, Paul has left a legacy of success, including establishing MTM as an internationally-recognized degree program and graduating our first doctoral student in 2022. Paul has the vision, ideas, and knowledge to lead us in exciting new directions that enrich our scholarship and enliven our degree programs."
Kyle Lewis, Christian A. Felipe Endowed Chair, joined Technology Management in 2014 as faculty, and was appointed Chair in 2017. Her research on team performance and innovation is published in premier scholarly journals and has received international recognition. She teaches courses in leading people, managing diverse teams, and collaborative innovation. As Chair, Lewis has forged collaborative efforts with UCSB engineering and social science faculty, enhanced and standardized the Master's and Certificate Program curricula, expanded research depth and breadth with the hiring of two junior and two senior faculty, and supported the Ph.D. program expansion. In 2022, Lewis successfully led efforts to achieve Department designation after a lengthy vetting process. 
"We are well positioned to build on the foundation laid by Kyle and become the preeminent department in the world focusing on the management of technological innovation in its many forms," said Paul Leonardi. "I believe we are building something unique, powerful, and important. I feel honored to have the opportunity to work with the Technology Management team to move our department in new directions and to even greater heights." 
Read more about Paul Leonardi and Kyle Lewis and their work and learn about UCSB Technology Management and our award-winning faculty. 
 
Share this with Facebook
Share this with Twitter
Share this with LinkedIn
Share this with Reddit
Share this with Email
Print this