Technology Management Welcomes New Faculty, Prof Nelson Phillips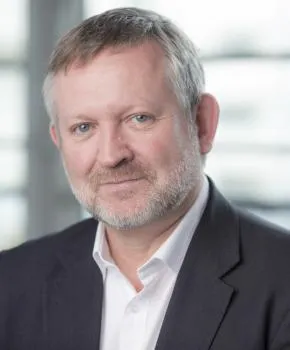 Meet Nelson Phillips
UC Santa Barbara welcomes Nelson Phillips who joining the Department of Technology Management as a full professor. Phillips spent the past sixteen years as a faculty member at Imperial College in London, where he also served in various administrative positions, including associate dean of external relations and acting dean of the Imperial College Business School. An elected fellow of the Academy of Management (AOM), Phillips has also received numerous best-paper awards, the Joanne Martin Trailblazer Award from the Organization and Management Theory Division of AOM, and AOM's 2021 George R. Terry Book Award for his book, Constructing Organizational Life: How Social-Symbolic Work Shapes Selves, Organizations, and Institutions. He received his Ph.D. in organizational analysis from the University of Alberta, a master of business administration, and a bachelor's degree in electrical engineering from the University of Calgary in Canada.
Q: Please explain a bit about where you have worked, taught, or completed research prior to coming to UCSB?
A: After completing my Ph.D., I began my academic career in the Faculty of Management at McGill University in Montreal, Canada. I was there for nine years and then moved to the UK to become the Beckwith Chair in Management Studies in the Judge Business School at the University of Cambridge. After four years in Cambridge, I moved to Imperial College London where I was a faculty member for sixteen years. During that time, I was also the associate dean, director of executive education, and dean of the Business School.
Q: What is the focus of your research?
A: I am an organization theorist. My research generally focuses on how humans organize and particularly how people and technology come together in organizations. I also have an interest in entrepreneurship where I apply ideas from organization theory to how new ventures are founded and grow. More recently, I have been researching how new technology ventures scale rapidly. This is an important area, but there is a lot of hype and misinformation surrounding this process.
Q: How did you get interested in these specific fields of research?
A: I had an interest in technology, and particularly digital technology, as a teenager, and that led me to take a degree in computer engineering. But, once I finished my degree and went to work, I discovered that many of the most interesting technology problems aren't really that technical but happen where technology and people come together. They aren't just engineering problems; they are also management problems. How technology shapes people and how people shape technology is an area that we need to understand much better if we are going to deal with the ever-growing impact of digital technology on individuals, organizations, and society.
Q: What are the real-world implications of your research?
A: My research has implications for practitioners involved in innovation in established companies or for entrepreneurs who are starting new ventures. For example, I recently published a paper looking at the role of rumors in the development of new technologies. In this paper, we argue for the importance of rumors in providing a feedback loop for technology companies that are considering modifying their technologies or introducing new technologies. In the paper, we discuss how companies do this and how to think about technology rumors and their role in communities of technology users. For practitioners, our work provides insight into how rumors function in society and their role in new technology development. Another recent paper looked at technology-enabled service innovation in professional service firms. The paper reported on a study of a large consulting firm and how they successfully created new services around new digital technologies.
Q: How excited are you to join your department at UCSB?
A: I feel very lucky to have joined the Technology Management Department in the College of Engineering. My new colleagues are incredible, and UCSB is a perfect place for someone with an interest in technology. It is a great next step for more and opens up many potential new directions for my research. I am really looking forward to getting started next week!
Q: When did you move to the Santa Barbara area, and how are you adjusting to your new hometown?
A: I arrived this week! Getting here from the UK turned out to be a bit more complicated than I anticipated. But it is great to be here, and I am really looking forward to getting to know the area. What I have noticed already is that everyone is incredibly friendly and helpful.
Q: Have you discovered a favorite beach or found a new favorite restaurant since you've moved to the California Coast?
A: The apartment I am renting is right across the street from Scarlett Begonia and I have been there twice already. The food and service have been fantastic both times. So, for the moment, that is my favorite restaurant! But ask me again in six months once I have had a chance to go to a few more of the amazing restaurants in the area and things may have changed.
Q: Can you tell us something interesting about yourself unrelated to work and research, i.e. interesting hobbies, passions, accomplishments, etc.?
A: An additional bonus for me of living in Santa Barbara is the great marina. I like to sail and after sailing for the last several years in the UK, it will be nice to sail where there is a bit more sun!
Share this with Facebook
Share this with Twitter
Share this with LinkedIn
Share this with Reddit
Share this with Email
Print this