Since its inception in 1999, Technology Management's New Venture Competition (NVC) has continued to grow in popularity and quality and become an important and transformational educational experience at UC Santa Barbara. NVC is unique relative to many university business competitions in that it is open to students of all majors and levels at UCSB, and it requires participants to complete a rigorous eight-month program to develop, refine, and validate their businesses. The entire process involves a variety of preparation courses, workshops, and seminars led by an outstanding and committed group of faculty and industry mentors.
Watch! 2023 Annual New Venture Competition Finals
Recorded on Thursday, May 25, 2025 at 3 p.m., Corwin Pavilion

Fenwick, CNSI, Yardi, Dow MI at UCSB, UC Santa Barbara Materials Research Lab (MRL), SoCal IP Law Group LLP, Entrada Ventures, Economics at UC Santa Barbara, Reicker Pfau, PayJunction, Cushman and Wakefield, Deloitte, UBS, Montecito Bank and Trust, Santa Barbara Angel Alliance, JP Morgan Chase, Bartlett Pringle and Wolf LLP, appfolio, gem goleta entrepreneurial magnet 
To stay current on information and fall events, join the New Venture Competition project site by first logging into Gauchospace (using your UCSBNetID) and searching for the New Venture Program 2023.
Watch the 2022 Annual New Venture Competition Finals
Recorded on Thursday, May 19, 2022 at 3 p.m., Corwin Pavilion
Watch the 2021 New Venture Competition Finals Replay
Miss or want to replay the 2021 New Venture Competition? You can stream the video on demand. Click on video chapters to jump to the portion you wish to view. 
Chapter 1: Introduction from New Venture Program Director, Dave Adornetto; Chapter 2: Team Solaris; Chapter 3: Team Aquipur; Chapter 4: Team Eel Armor; Chapter 6: Team Ultim; Chapter 7: Team Scopen; Chapter 8: Team Tesserol; Chapter 10: "Best of" High School; Chapter 11: Awards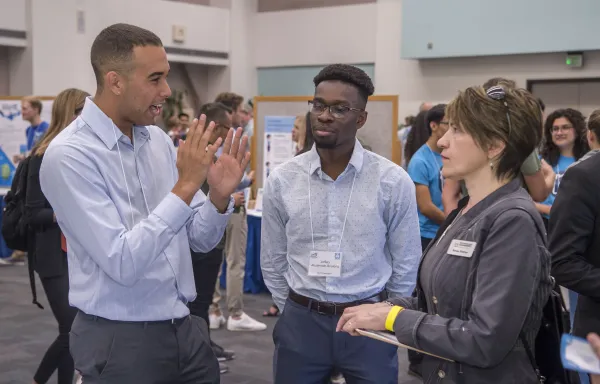 NVC: Hands-on Learning & Mentorship
Through hands-on instruction and industry mentorship, students learn to create and launch a startup business and compete in the annual New Venture Competition (NVC), UCSB's flagship entrepreneurial experience. Working in multi-disciplinary teams under the guidance of faculty and mentors, students learn about and practice business model development, customer discovery, market validation, go-to-market strategies, as well as how to develop and deliver an investor pitch. Students also gain an understanding of new venture financing alternatives, legal and intellectual property matters, and methods for effective financial forecasting.
NVC: Lifelong Skills and Connections