2021 New Venture Competition Winners and Event Recap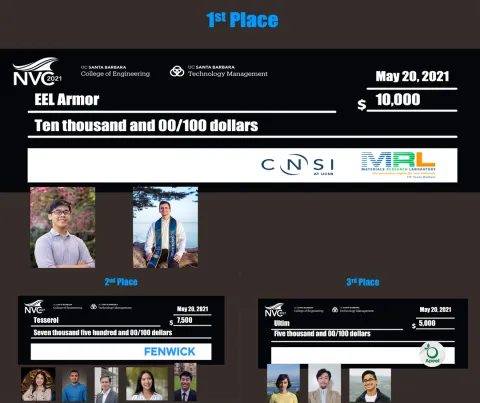 Congratulations to First Place and People's Choice Winner Eel Armor and to all the Finalist Teams!
Eel Armor takes the top prize at the 2021 New Venture Competition on May 20 with its "lightweight rifle armor made from a unique ceramic design that offers protection, safety and improved comfort to law enforcement officers and first responders." In addition to securing First Place, the team was also awarded the coveted "People's Choice" bringing their total winnings to $15,000. But all teams competing in the New Venture Finals walked away with accolades and a cash prize, including:
Tesserol: 2nd Place, NVC Best of Fair (Total cash prize of $8,500)
Manufactures ethanol fuel cell to power commercial drones for delivery, agriculture and surveillance. A replacement to similar-sized Li-Po batteries and H2 fuel cells.
Ultim: 3rd Place ($5,000) 
Cloud-based SaaS platform designed to solve the $18 billion problem of lost luggage in the commercial aviation industry. It offers an end-to-end monitoring solution, unified database management system for instant tracking access and automation.
AquiPur: Honorable Mention ($2,500)
A less expensive, more efficient filtration system for drinking water, utilizing a multi-phase graphene oxide filter designed to remove contaminants that impact the taste and health of water.
Scopen: Honorable Mention ($2,500)
Portable wireless oscilloscope that provides visual signal measurement to any computer or smartphone in any location. Low-cost measuring tool that can be employed at home and in labs, with future expansion into production/testing facilities, eliminating the need for expensive fixed processing equipment at each location.
Solaris: Honorable Mention ($2,500) 
Builds autonomous infinity flight solar drones that can collect and analyze vast amounts of high-resolution data to optimize agriculture. Drones collect real-time footage while applying analytics to determine pest and weather threats.
Watch the 22nd Annual New Venture Competition Finals!
Miss or want to replay the event? You can stream the video on demand. Click on video chapters to jump to the portion you wish to view. 
Chapter 1: Introduction from New Venture Program Director, Dave Adornetto; Chapter 2: Team Solaris; Chapter 3: Team Aquipur; Chapter 4: Team Eel Armor; Chapter 6: Team Ultim; Chapter 7: Team Scopen; Chapter 8: Team Tesserol; Chapter 10: "Best of" High School; Chapter 11: Awards  
2021 New Venture Competition
Thank you to the 2021 New Venture Competition Event Sponsors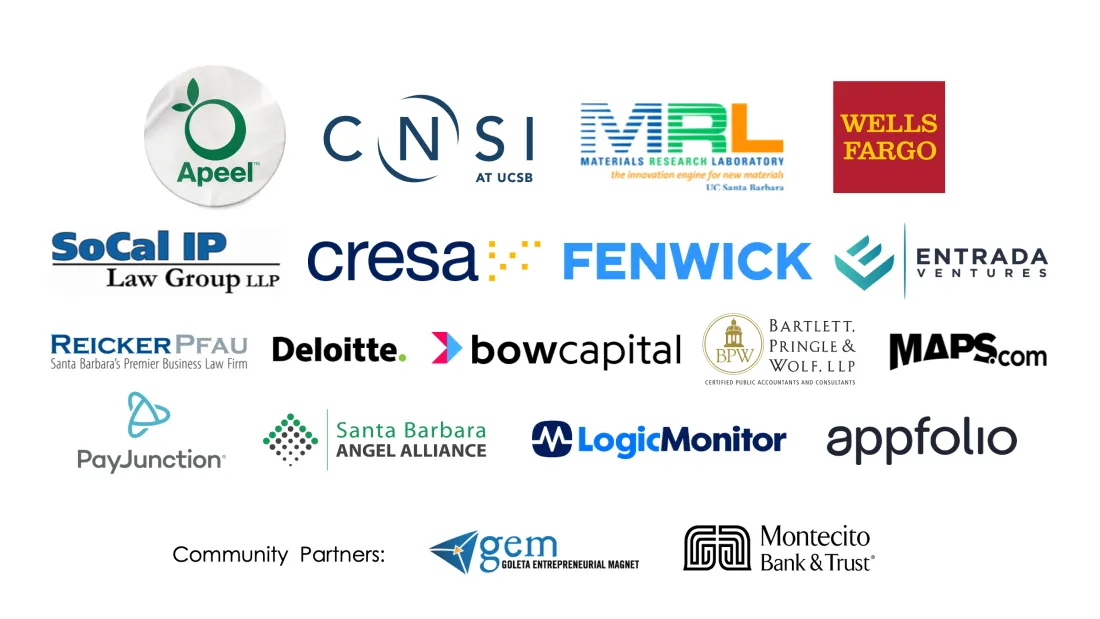 Share this with Facebook
Share this with Twitter
Share this with LinkedIn
Share this with Reddit
Share this with Email
Print this