Remote and hybrid workers aren't communicating across departments—at least using their current tools.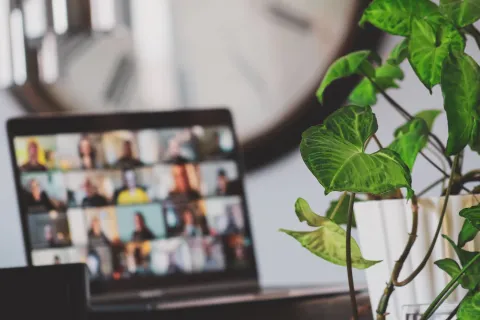 The pandemic has shown the world the benefits of working from home, including more flexible schedules and additional time with family. From this perspective, lack of communication when working from home might seem like a necessary side effect of these benefits. However, a recent study from Paul Leonardi (Department of Technology Management at UCSB) and Samantha Keppler (University of Michigan Stephen M. Ross School of Business) is showing that social media—widely available in remote work—can fill the role of, or even improve on, traditional types of communication. 
So why is this such an important issue to tackle? Forbes names isolation, limited communication, and lack of proactivity as some of the most difficult issues that remote and hybrid employees face in the workplace. In fact, most articles that discuss problems around remote work—like these examples from Zapier, Timeular, and Friday.app—consistently mention communication issues, struggles to learn, and lack of mentorship and collaboration in their lists. The Friday.app article even points out that remote and hybrid workers aren't just dealing with communication issues, but a reluctance to initiate that communication at all. Remote and hybrid workers find themselves trapped in a bubble, with only a few familiar faces accessible over Zoom, and a seemingly impenetrable divide between them and coworkers that they know of, want to speak to, but have never met. All this is just to show that sometimes, the barrier to knowledge sharing isn't a lack of knowledge, but the lack of confidence to pursue that knowledge. 
For their research, Leonardi and Keppler surveyed two divisions at a large South American telecommunications company that used a hybrid model. Leonardi and Keppler followed 141 instances in which these hybrid workers sought knowledge from their coworkers and then asked them to identify which digital communication tools they used for their interactions. The results from this study showed that ESM was just as effective as face-to-face and email communication—if not more effective—in raising employee comfortability with other departments and encouraging knowledge sharing. The employees who used ESM for their communications built higher confidence that their knowledge source would actually provide them with the answers they needed—so they asked more frequently. This led to higher satisfaction with the answers they received when compared to the results from other methods of communication. 
The most surprising finding from the study was that, despite all of the advantages of using ESM, many of the surveyed employees never actually used it. Instead, they leaned toward face-to-face or email communication, particularly when they felt the least confident. In other words, they underestimated the effectiveness of ESM, and acted in exact opposition to what would benefit them most in their situation.
3 ways to streamline knowledge sharing with ESM
With the number of remote and hybrid workers constantly rising, departments will continue to become more and more dependent on their inner circles unless something about their everyday operation changes. ESM is an important tool that can not only help you patch the holes that classical office life once filled for your employees, but can give them new life and efficiency. 
Depending on whether you're in a leadership or employee role in your organization, here are 3 concrete steps you can take today to encourage smoother communication and easier knowledge sharing using ESM: 
For Managers/Leadership: 
Offer easy access to tutorials and resources for your ESM. Your employees may feel uncomfortable using ESM over face-to-face or email communication due to its unfamiliarity, and will be more likely to use it if they know how. 
Set up your own profile and make it as robust as possible, including your own projects, research, and relevant history. As you continue to encourage and normalize ESM usage, your employees will follow your example and become more familiar with its benefits. 
Encourage lead staff to openly use ESM and direct employees to it when looking for answers. The more openly ESM is used in your organization, the more likely other employees will be to adopt it into their own workflows. 
For Employees/Staff:
Initiate conversations about knowledge sharing and ESM with your inner circle. If you feel uncomfortable reaching out beyond your department, letting management know about the problem is the first step to solving it. 
Set up your own profile and make it as robust as possible. Even if you're not in a managerial role, you can serve as an example for other employees in your department, or even to your manager. 
Start small. Find the ESM profiles of staff/employees that are closer in description to your role, and reach out to them first. This will prime you to reach out to others beyond your scope, once you have several successes under your belt.
What's next? 
Share this with Facebook
Share this with Twitter
Share this with LinkedIn
Share this with Reddit
Share this with Email
Print this